In Memory
R. Mark Lystrup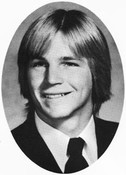 R. Mark Lystrup, 47, of Yuba City died Sept. 5, 2004, as a result of an auto accident in Pleasant Grove.
Born in Redding, he was a Yuba-Sutter resident for 42 years.
He worked in road construction for Yuba County.
He was a member of the Yuba-Sutter Bowling Association.
Survivors include a daughter, Elizabeth Lystrup of Yuba City; his mother, Juanita Lystrup of Yuba City; and two sisters, Barbara Harrison of Live Oak and Kim Bishop of Gridley.
He was preceded in death by his father, Robert E. Lystrup.
Donations may be made to Mothers Against Drunk Driving; the SPCA; or the Victim Witness Program.
Services: A visitation is scheduled from 4 to 7 p.m. today at Ullrey Memorial Chapel, 817 Almond St., in Yuba City. A funeral service is scheduled at 2 p.m. Friday at the chapel. Burial will follow at Sutter Cemetery, 7200 Butte Ave., Sutter, with Pastor Larry Ivy officiating.