In Memory
Anthony "Tony" LaBouyer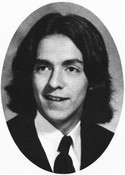 Anthony "Tony" Labouyer, 50, of Yuba City died June 8, 2008, at his residence.
Born in Marysville, he was a lifelong Yuba-Sutter resident.
He was a construction worker.
Survivors include his wife, Janene Labouyer of Oroville; a daughter, Janessa Labouyer of Oroville; a son, Jason Labouyer of Union City; and four brothers, Andre Labouyer of Yuba City, Gerry Labouyer of Las Vegas, Raymond Labouyer of Verdi, Nev. and Joseph Labouyer of Glen Burnie, Md.
Services: A memorial service is at 11 a.m. Wednesdayat the Church on the Move, 398 Aylor Ave., Yuba City, with Pastor Ron Brasier officiating. A reception will follow a Lee's Canton in Yuba City. Arrangements are under the direction of Holycross Memorial Services in Yuba City.
Published in the Appeal Democrat on 6/12/2008