In Memory
Kevin Daniel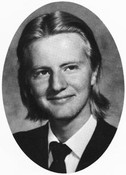 Kevin Daniel, 43, of Live Oak died Feb. 21, 2001, at his residence.
Born in Yuba City, he was a lifelong Yuba-Sutter resident. He worked
for Harter's Cannery for 18 years and was a member of the Church of
Glad Tidings.

He was a volunteer for the Trauma Intervention Program and served
in the U.S. Air Force.

Survivors include his wife, Kelly Daniel of Live Oak; two sons, Brian
Daniel and James Daniel, both of Live Oak; a daughter, Kimberly Daniel
of Live Oak; his parents, Glenn and Nelda "Lou" Daniel of Yuba City;
and two sisters, Sherrie Blankenship and Susan Flores, both of Yuba City.

Contributions may be made to Kevin Daniel's Children Memorial Fund
care of the Church of Glad Tidings, 179 Eager Road, Yuba City CA 95993.

Services: Visitation will be from 4 to 7 p.m. Friday
at Holycross Memorial Services. A funeral service will be conducted
at 11 a.m. Saturday at the Church of Glad Tidings, with Dave Bryan,
pastor, officiating. Burial will be at Sutter Cemetery.